How to install a Blackberry application from a .zip or .rar file
Looking back many years ago to when I just got my Blackberry Curve II (it was selling for around ₦53,000 then and not too many people had even seen real life Blackberries so you can imagine how long ago that was). I was having problems signing into Blackberry Appworld because I wasn't sure which of my three Blackberry IDs I'd associated with the Blackberry ( you can read https://www.hovatek.com/blog/how-to-fix-the-please-enter-the-username-associated-with-this-smartphone-error-in-blackberry-world/ if you're having a similar issue).
I decided to uninstall App world and stick to installing my applications using the web browser. Everything seemed to be working fine until I came across a set of applications that kept downloading zip files to my phone instead of installing like the others. I first thought it was a website error but after about 5 similar experiences on different websites and for different applications, I knew I'd just discovered something but didn't know what it was. After some research, I was finally able to understand what exactly was happening and that is what I will be discussing in this tutorial.
I downloaded a Blackberry application and it saved to my phone as a zip file instead of installing, is something wrong?
You've done nothing wrong and its nothing to be worried about. What you have downloaded to the phone is the offline installer for the Blackberry application and if you read on, you'll learn how to install the application using the offline installer
Why do some Blackberry applications come in form of .zip or .rar files?
Its dependent on the uploader's choice. Some uploaders prefer you to install the app Over The Air from servers while some would rather pack all the files into one zip file and make it available for you to download then install offline. In both scenarios, you're installing the same set of files to your phone, the only difference is how the files are delivered to your phone; online or offline
What are the methods of installing applications on a Blackberry?
There are two methods of installing a Blackberry Application:
Over The Air (OTA)
Offline
The OTA method involves downloading and installing an app using either the Blackberry's web browser or the Blackberry World app while the Offline method involves downloading the app in a zip or rar file format then installing it using any Blackberry tool that supports such or just running the offline installer (.jad / .jar file) directly from the Blackberry.
What is the difference between the OTA and offline method, and which is more advisable?
They're both basically the same thing but based on personal preference, some differences which could help you choose one method over the other are:
Security: Apps installed OTA from the Blackberry world app have a lower chance of having been tampered with than apps installed OTA from a third-party source or even in form of a .zip or .rar file
Internet / data: The OTA method requires internet access while the offline method doesn't
Repeat installation: You'll need internet access each time you wish to install the same app OTA but for the offline method, you only need download the file once and you can re-install at will without internet
Latest version: You have a better guaranty of installing the latest version OTA from Blackberry world than OTA on a third party website or using an offline .zip or .rar file
Difficulty level: Most people I've discussed with find the OTA method easier, coupled with the fact that Blackberries < OS 10 hardly support the .zip or .rar format by default so you'll either need to install a zip extractor app or extract using a PC
Sharing: The .zip or .rar files can be easily transferred offline to as many people as you can, coupled with an instant offline installation. The best you can do as regards sharing in the case of OTA installation is to share a download link, in which case, the receiver still needs to download
Archiving: If you're a collector then the offline method is much better for you because some apps tend to get very scarce online or even disappear all together, in which case, those who still have the offline versions would be smiling
Patching: If you do a lot of cracking and patching then the offline method provides a better platform for such
How do I install a Blackberry application from a .zip or .rar file? 
We'll be treating two offline methods:
Using Offline Blackberry Installer (.jad file)
Using Offline Blackberry Desktop Manager (.alx file)
A. Offline Blackberry Installer Method
1.Download the Blackberry application's zip or rar file and extract its contents into a folder (either use a PC or install a Blackberry zip extractor app)
2. Copy the folder to the SD card of the Blackberry. If you're having problems connecting to the SD card via PC then read
https://www.hovatek.com/blog/how-to-fix-a-blackberry-phones-mass-storage-sd-card-that-wont-connect-to-pc-using-usb-cord/
3. Go to the Blackberry's Home screen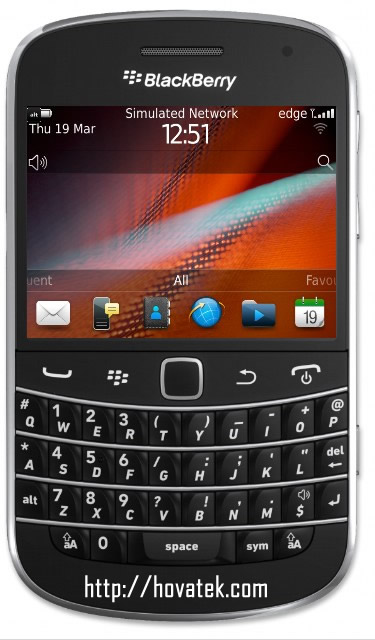 4. Navigate to Media
5. Press the Menu button and select Explore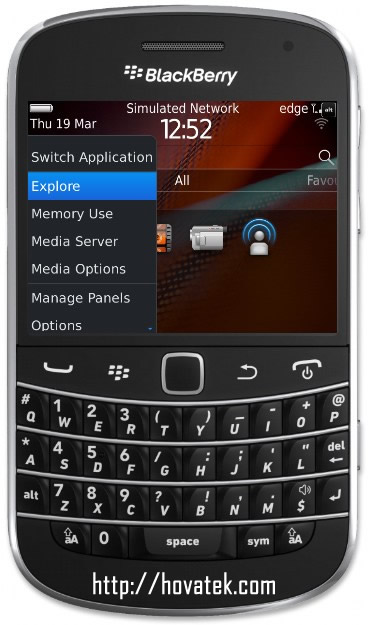 6. Open Media Card
7. Open the Folder where the application's files are stored
8. Select the .jad file from the list of files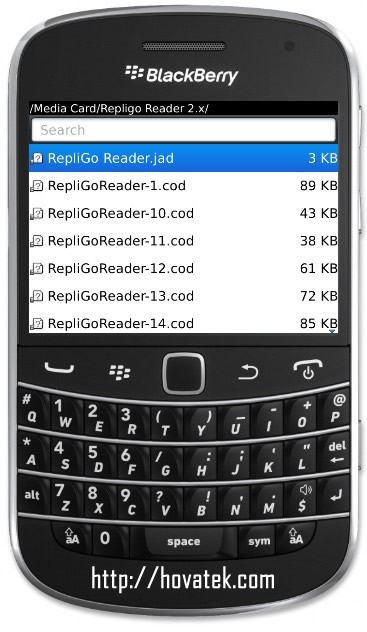 9. Click Download to proceed with the installation (not to worry, you wont be needing / using any internet access here)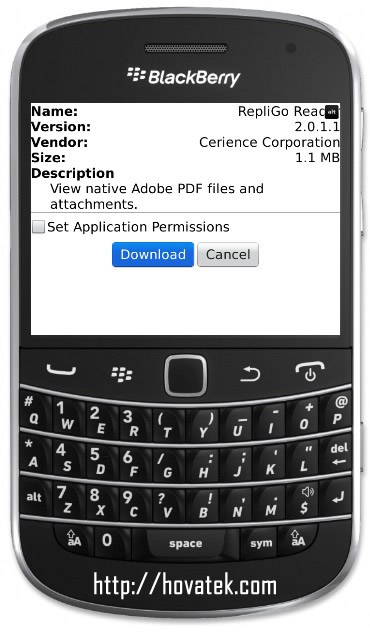 10. You should get a prompt to confirm that installation was successful
11. You're done
B. Offline Blackberry Desktop Manager Method
1.  Download Blackberry Desktop Manager
2. Download the Blackberry application's zip or rar file and extract its contents into a folder on the PC
3. Wait till the phone gets detected and its details get displayed. You might be prompted to enter a password if the Blackberry is password protected. If you've forgotten your password then read https://www.hovatek.com/blog/how-to-regain-access-to-or-wipe-format-a-password-protected-blackberry/
4. Click Applications at the upper left corner
5. Wait for the software to read the phone's application configuration (might take a few minutes). If it takes really long all the time then you probably have a slow Blackberry; read https://www.hovatek.com/blog/how-to-fix-a-slow-lagging-hanging-crashing-blackberry-phone/
6. The list of installed applications should now be displayed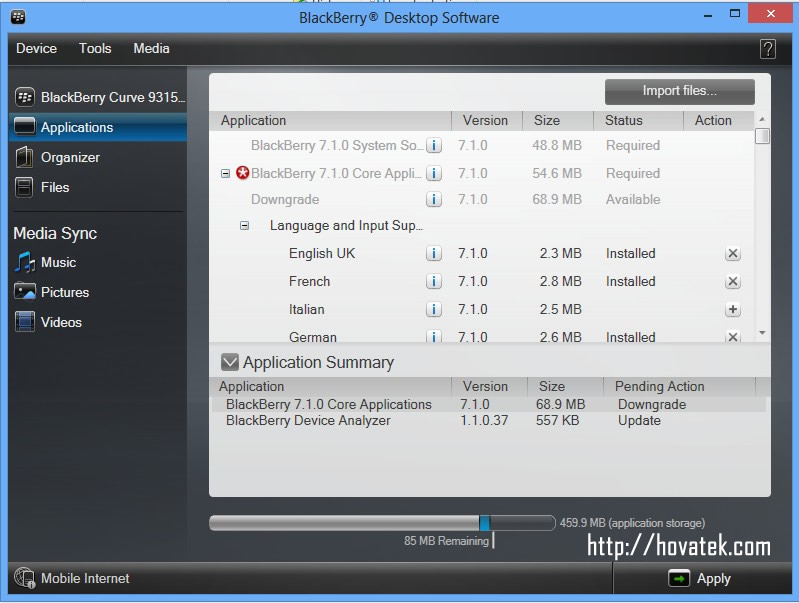 7. To install an application, click Import files at the top
8. Navigate to the location where you extracted the contents of the zip file, highlight the .alx file then click Open
9. The Application should now be listed under Application Summary tab . To add or remove an application already under the Application tab, click the + or x sign; + to install and x to uninstall. Click Apply when you're done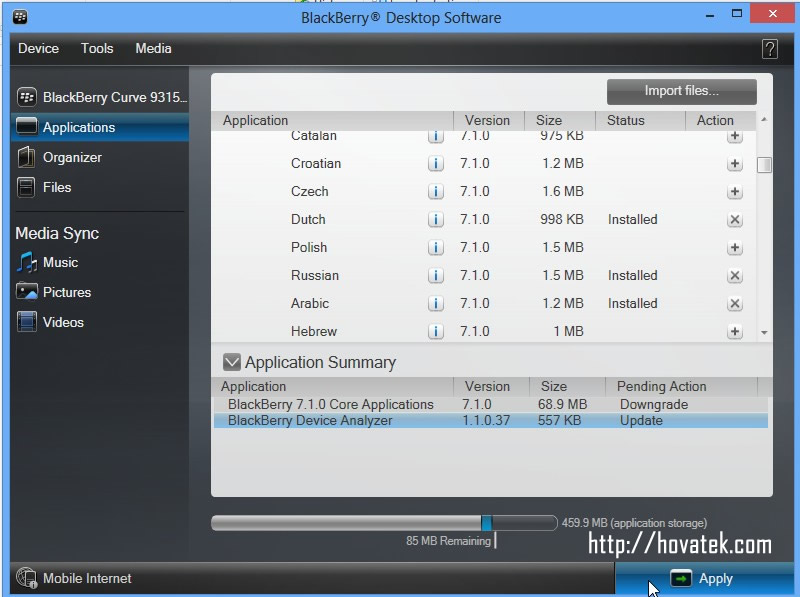 10. Wait till Blackberry Desktop Manager installs the application
11. When its done, the device will reboot (you'll see a confirmation) and you're done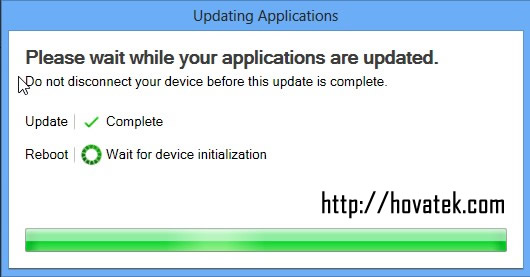 See the video tutorial below or @ http://youtu.be/FfEpSKVEMGk
Hovatek….just a button away!