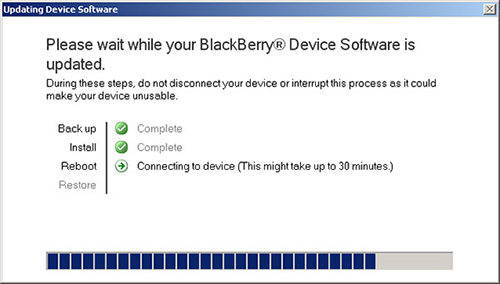 A Blackberry could get very frustrating, especially when it starts freezing, giving you a white screen, not starting up, taking too long to boot or respond. There are quite a number of techniques you could employ in fixing such but imagine coming out of one problem only to fall into another. When OS issues become persistent, two reliable approaches to consider are:
Wiping the old OS then installing a fresh copy
Upgrading the OS
In this guide, we'll be treating how to upgrade and downgrade Blackberries running on Operating Systems below Blackberry OS 10
What is a Blackberry Operating System (OS)?
A Blackberry OS is a software which manages your Blackberry as a whole (Both hardware and software components), controlling their communication / interaction with one another and also other devices / processes which are associated with your Blackberry. Simply put, your Blackberry OS is that breath of life into your Blackberry. Without your Blackberry OS, your Blackberry is just a dead bunch of neatly assembled hardware.
How are various versions of Blackberry device software / operating system ranked or placed in a hierarchy?
Blackberry Operating system software come in versions , i.e 4.x.x , 5.x.x , 6.x.x, 7.x.x , 10.x.x etc. In between OS 4 and OS 5, you could have say, 4.34.989 or 4.89.000 . Now, OS 4.89.000 is of a higher version than 4.34.989 (simply arithmetic right?). What brings about such sub-updates (from 4.x.x to a higher 4.x.x) is mostly security patches, hot fixes and what have you. A leap from say OS 4.x.x to OS 5.x.x is a major upgrade because in such updates, major features / functionality are usually integrated.
What does it mean to refresh , update, upgrade or downgrade a Blackberry Operating System (OS)?
These terms mean different things and should not get mixed up:
To refresh a Blackberry Operating System (OS): Means to replace an existing Blackberry operating system with an OS of the same version for that Blackberry device.
To update a Blackberry Operating System (OS): Means to replace an existing Blackberry operating system with the latest version of the operating system for that Blackberry device.
To upgrade a Blackberry Operating System (OS): Means to replace an existing Blackberry operating system with an OS of a higher version for that Blackberry device (not necessarily the latest version).
To downgrade a Blackberry Operating System (OS): Means to replace an existing Blackberry operating system with an OS of a lower version for that Blackberry device.
Why should I update, upgrade, downgrade or refresh my Blackberry OS; are there any benefits?
It is very important you know how to upgrade, downgrade, refresh or update a Blackberry OS if need be because these are very valuable tools in fixing a crashed or corrupt Blackberry OS. In situations where you have a white blackberry screen (see https://www.hovatek.com/blog/how-to-fix-the-blackberry-white-screen-of-death-wsod/ ) , very slow or freezing Blackberry (see https://www.hovatek.com/blog/how-to-fix-a-slow-lagging-hanging-crashing-blackberry-phone/ ), your Blackberry is not coming on etc . Blackberry regularly releases updates in which they fix some security holes and integrate wonderful features that would give you a better Blackberry experience; all of which you would be missing if you don't regularly update your Blackberry OS. Updating your Blackberry OS also enables your Blackberry support the latest versions of your favorite apps (which are being loaded with more and more features with each version) so you don't have to be left out of the latest technologies.
How frequently should I update my Blackberry Operating System (OS)?
I honestly would not advise you to go updating your Blackberry OS as soon as a newer version is released because history has taught us that initial releases of new OS updates are usually buggy so they might be shortly followed by hot fixes. In extreme cases, people who update to a given new OS might all have one peculiar problem associated with that OS because it might still be in beta testing. My advice to you is that you wait a few weeks till you get positive feedback or at least, no enormously negative feedback about the OS you are about to update to.
Why can't my Blackberry OS be upgraded to certain OS versions?
There truly could be a limit to what version of the Blackberry operating system a specific Blackberry device can support. One good reason is that the hardware makeup of a device might not be well suited to support certain features. Certain Blackberry devices are not advanced enough to support the highest or latest versions of the Blackberry OS. Trying to tweak your way around it would most likely result in your OS eventually crashing. Imagine trying to install a sophisticated camera managing app on a device that doesn't even have a camera.. silly isn't it?
Are there any problems associated with upgrading, downgrading, refreshing or updating my blackberry OS?
If the process is executed correctly, then you should have a perfect Blackberry. You should however be aware that there are certain pitfalls you might want to avoid when installing a Blackberry OS. Some are:
Interrupting the process: The Blackberry OS installation process is not exactly a transaction (all or none). What this implies is that if you disconnect the phone (unplug) during an OS installation, what you will have yourself is a corrupt Blackberry OS (see https://www.hovatek.com/blog/how-to-fix-repair-a-corrupt-nuked-or-crashed-blackberry-operating-system-software-os/ ).
Making wrong installation choices: During the OS installation, ensure to select the correct information like language, apps to be retained, processes to be installed etc. Do it wrong and you'll have to start all over.
Using a faulty Blackberry cord or working on a near empty battery: Either of these two will turn around and bite hard. There are times that your battery will assist in powering your Blackberry during the installation process so make it readily available (see https://www.hovatek.com/blog/how-to-make-a-blackberry-battery-last-longer/ ) and ensure you have a firm Blackberry cord .
Apathy to detail: Ensure to know what operating system version your Blackberry is currently running and what version you are about to install so you don't downgrade instead of upgrading (To check your Blackberry's current OS version, go to the Options icon on your BlackBerry home screen > About > Your OS version will be listed as a series of numbers after a lowercase V ( e.g v4.5.2.005) on the first screen. You can also employ the Help Me screen shortcut to determine your current OS version by hitting ALT + aA + H) .
How do I backup my Blackberry before installing a Blackberry OS?
Good news is, you don't have to lose your important stuff or Blackberry contacts due to an OS installation. It is very important to backup your Blackberry contacts and important stuff before you proceed with either an OS update, upgrade, downgrade or refresh. Note that installing an OS does not affect the files on your memory card so they are safe. There are two methods of backing up your Blackberry contacts and other important stuff:
Using Blackberry Protect or other backup apps.
Using Blackberry desktop manager.
How to backup blackberry contacts using Blackberry Protect
Download Blackberry
Sign in with your Blackberry ID or sign up for one from the the Blackberry Protect app if you don't have a Blackberry ID.
From the list of options or by pressing the menu button, run the backup wizard.
How to backup Blackberry contacts using Blackberry Desktop software
For this method, you will need a laptop / PC with Blackberry Desktop Software installed. The procedure is as follows:
Launch the Blackberry Desktop manager software from its shortcut icon on your desktop or wherever it is located
Connect the Blackberry to the PC via its cord and wait for your Blackberry to be recognized (Blackberry Desktop Manager will display your Blackberry's info)
Go to the upper left corner > Click Device > Click Back up > Select Backup all data > Wait for the wizard to complete running
What would I need to upgrade my Blackberry operating system
Depending on the method you'll be using, you'll need:
A laptop or desktop PC
An internet connection ( if you'll be using the online method)
The blackberry device software
Blackberry desktop manager ( if you'll be using the online method)
The Blackberry you wish to upgrade with its cord
How do I update my blackberry software?
There are four methods through which you can update your Blackberry Operating System (OS):
On the web
Using BlackBerry Desktop Manager Software.
From your smartphone OTA (over-the-air).
Offline method.
How to update your Blackberry OS on the web
In order to download the Blackberry Operating System software from the Blackberry website and install it, you must be using Firefox or Windows Internet Explorer v5.5 or higher
If you meet the browser requirements, Visit the Blackberry website's portal for browser addon update
Click Update now under Web-based updates
Check for a browser message on your screen prompting you to run an add-on
Once you do so, you should see a Check for Updates button
How to update your Blackberry OS using BlackBerry Desktop Manager Software
Connect to the internet.
Launch the Blackberry Desktop Manager software.
Connect your Blackberry to the PC and wait for your Blackberry to be recognized (The software will display your Blackberry's info).
Look for Update at the bottom of the interface or go to the upper left corner > click Device > Click Update
The update wizard will search for available updates after which it will display them for you to select from. You could either pick a higher version (upgrade) or pick a lower version (downgrade).
If a dialog box appears and indicates that there are no BlackBerry Device Software updates available, it means your Blackberry is running on the latest OS. You'll be asked to enter your email address so as to be notified of new versions when they are released .
You can end the process here if you are satisfied or click View other versions in the lower left corner
The check box for the currently installed version is selected in the Available Versions list. Select your preferred version then click the Install button
Select the check boxes for the appropriate update options and click the Install Update button
Just follow the instructions provided by the wizard, allow it to download the needed items then auto-complete the process.
Note that as straight-forward and easy as this method is, it consumes data (MB) and might have to restart if interrupted or the connection is slow or gets terminated.
How to update your Blackberry OS from your smartphone OTA (over-the-air)
You can update your BlackBerry smartphone OTA (over-the-air) without connecting to a computer. To get started:
Select the Options icon from the Home screen.
Choose Device
Click Software Updates and follow the instructions.
Ensure you are subscribed to a data plan.
How to update your Blackberry OS using offline method
Download blackberry os (latest version) for your Blackberry model and install it.
Restart your laptop / PC
Connect the Blackberry to the PC via its cord
Navigate to My Computer > C: > Program files or Program files (x86) if you use 64 bit > Common files > Research in motion > AppLoader > Delete a file named Vendor.xml > Launch a file named Loader .
The loader wizard will display a welcome message, click next
Select your Blackberry PIN from the drop-down list
Tick Detect communication port and click Next
Your Blackberry will show a white screen as the loader reads your Blackberry
At the Device Application Selection, select your language input (English), check any other thing you want installed on your Blackberry and click Next
If prompted to backup data automatically or wipe / overwrite, you can chose as appropriate.
Upon completion, you should get a success confirmation message as in the image above
This method is a lot more data (MB) friendly.
What are the things to bear in mind before upgrading a Blackberry OS
If you use any BlackBerry Internet Service (BIS) accounts, you likely want to resend your e-mail service books even if your device was automatically re-registered. This ensures that you're taking advantage of any related tweaks that may have been included in the software update
Immediately following your upgrade, you'll be prompted to log back into a number of applications but some you'll need to manually open to enter your account information. If you have a media card installed, you'll also be asked whether or not you want to turn your BlackBerry's mass storage mode on, regardless of your previous settings. You'll also be asked if you want to run through the BlackBerry Setup Wizard.
If you're on a BlackBerry Enterprise Server (BES) you should check in with an IT representative before attempting to upgrade your smartphone's handheld software, because some IT policies can block or partially block a new OS install.
What of Blackberry 10 devices?
There are a number of OS installation / upgrade techniques for Blackberry OS 10 devices . Two are:
1.  Over The Air (OTA) updates:  Normally, you should get a notification when an update is available for your carrier but if you don't, go to Settings > Software Update and manually check for,  download and install any available updates.
2.  Using the Blackberry Link Software: This method requires a PC and an internet connection. To do this:
Download the Blackberry Link software
Install and launch the software on the PC
Backup your Blackberry 10 device using the backup option
Still in the Blackberry Link software, check for an update
Follow the wizard to download and install the update to your device.
Hovatek….just a button away!